Planning a honeymoon can be one of the most exciting tasks on your wedding planning checklist. After months of organizing and coordination, it's finally time to pick the most iconic vacation of your new life together. The honeymoon in many respects kicks off your marriage, and so it's important to get this right.
We loved the idea of a tropical paradise but didn't want to fly halfway around the world to your typical destination. After a bit of research, we came upon St. Lucia in the eastern Caribbean Sea. A quick four and a half hour flight from NYC meant we could leave our house in the morning and be on the beach that afternoon. One look at those gorgeous Pitons and we were sold.
STAY AT THE EXQUISITE JADE MOUNTAIN RESORT
When it came time to choose where to stay in St. Lucia, we sought a resort that immersed us in nature with the right blend of luxury, relaxation and adventure. It didn't take long for us to find the magnificent Jade Mountain Resort. It was recently named one of the top resorts in the world—and for very good reason. The resort itself is an architectural marvel to behold, built into the side of a mountain and rising majestically above the 600 acre Anse Chastanet beach resort.
With over twenty sanctuary rooms to choose from, each one boasts a completely unique layout and finishings as well as your own private infinity pool. What makes the sanctuaries truly special are the exposed walls which open your senses to the blissful nature surrounding you. The Jade Mountain Sanctuaries are meant to be a complete respite for your soul—artfully designed to be in harmony with nature by world renowned architect and owner of Jade Mountain, Nick Troubetzkoy.
Upon arrival at Jade Mountain, you are greeted by your Major Domo (aka personal Butler). The Major Domos are all graduates of the prestigious Guild of Professional English Butlers and are trained to anticipate and cater to your every need. Do you need them to unpack your clothes? Book your excursions? Arrange a private tasting on your terrace? Your wish is their command.
UNWIND IN AN EXPANSIVE GALAXY SANCTUARY
We had the unique pleasure of staying in not one, but two of their Galaxy Sanctuaries. With both the third and fourth walls entirely absent, the panoramic views of the Pitons were simply breathtaking. The openness and curvature of the room inspires a feeling of living in harmony with nature; you awaken each day with the sunrise and birds chirping while you drift to sleep under the stars with a cool island breeze.
Each sanctuary includes every amenity imaginable—including your own private infinity pool, 15 ft high ceilings, a king sized bed, refrigerator, coffee/espresso machine and a wine cellar. Each suite has a personality all its own—not only do all the suites and pools differ in shape and layout—all the furniture, wash basins and even showers do not repeat themselves. We especially appreciated that each sanctuary was designed techno-free to inspire a more holistic connection to nature. Televisions and radios are purposely absent, although WiFi and your personal Butler phone is always available.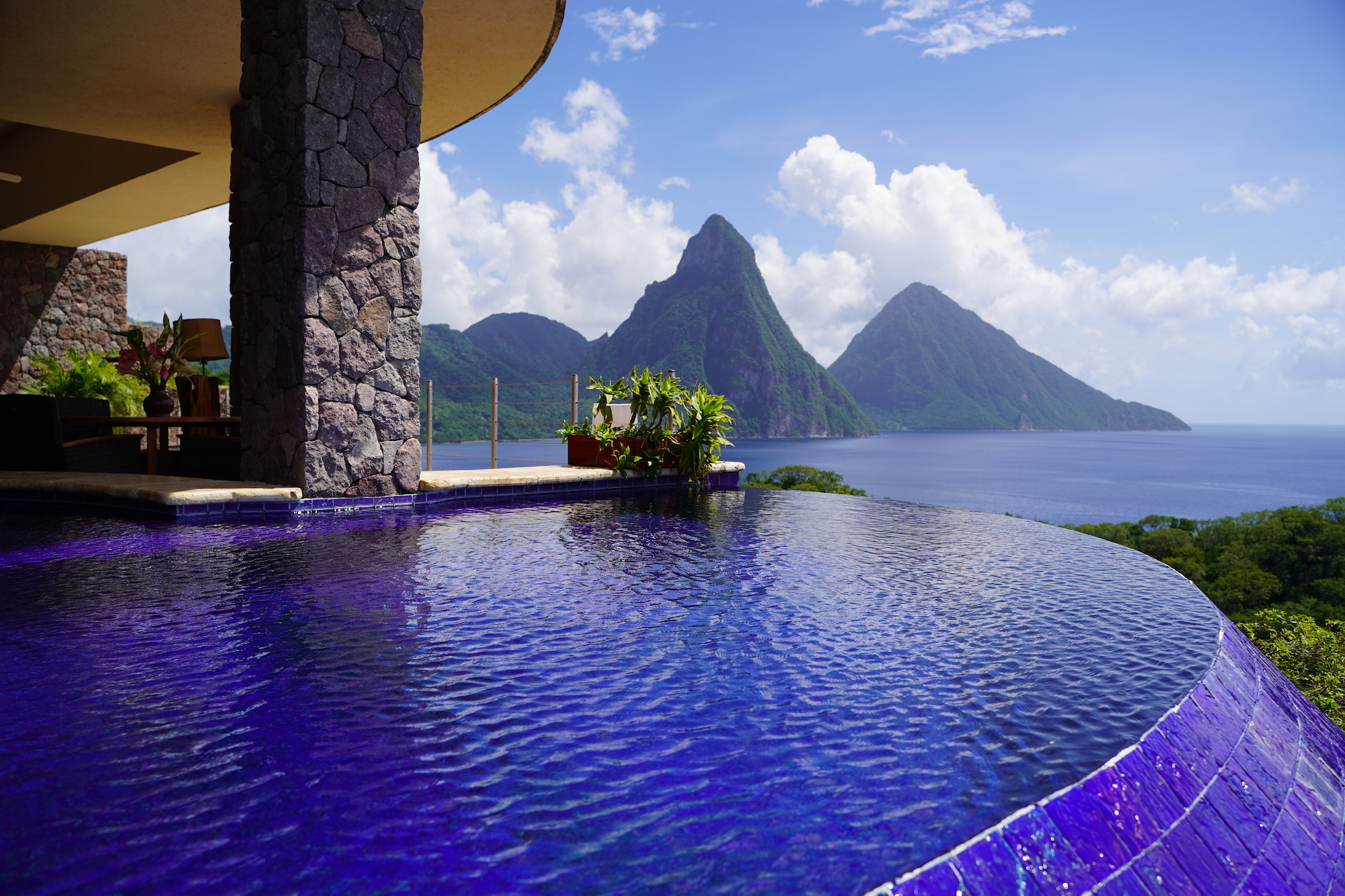 SUSTAINABLE DESIGN AT JADE MOUNTAIN
A great deal of planning took place to ensure Jade Mountain was constructed in the most sustainable way possible. Each private infinity pool is made of recycled glass tiles which were designed in a symbiotic collaboration with David Knox of Lightstreams. The result was stunning iridescent reflective pool tile that matches Nick's unique architectural style.
It was also Troubetzkoy's determination to keep as much economic benefit as possible in the region. The entire project was hand built with workmen from the local community of Soufriere. He has tremendous respect for the woodworkers and masons of St. Lucia and the quality of the massive hand set stone work and wooden craftsmen finishes speak for themselves. The living areas of the rooms are finished with tropical hardwood floorings and trim harvested in an environmentally responsible way. Jade Mountain technicians personally visited the Rain Forest of Guyana and chose which trees to use.
INDULGE YOUR CULINARY SENSES
Many Jade Mountain stay packages include your meals—whether that's your in-sanctuary breakfast, lunch at any of their many restaurants or dinner at the incredible Jade Mountain Club. We took full advantage of our meal package and sampled a wide variety of cuisine by their James Beard Award winning chef, Allen Susser.
Among our favorite culinary highlights included daily breakfast in the suite, which you order the night prior. With each evenings turndown comes a full menu of traditional English breakfast items to choose from as well as daily fresh squeezed juices and smoothies made with fruit grown right on property. Simply select your desired menu items and leave it in your door slot for your Major Domo. Your breakfast spread arrives the next morning at the exact time you specify.
Our favorite specials included the "Healing Elixir" comprised of carrot, pumpkin and pineapple juice as well as an incredible avocado toast with fresh gem lettuces picked right from the local Emerald Estate Farm. For a heartier start to the day, we really enjoyed the traditional English Breakfast and assortment of omelettes.
A great secluded spot for lunch was the Burger Bar on Anse Mamin beach. Located on the shoreline of the jungle, the Burger Bar is perfect for beachgoers and has a flexible no shoes required policy. The tastiest gourmet burgers are accompanied by fries and the island's famous banana ketchup and West Indian hot sauce. This well sought after spot is accessible by foot, a short 10 minute walk from the resort or via the water taxi from Anse Chastanet.
If you aren't ready to leave the comfort of your sanctuary, check your fridge for the hand delivered bento boxes. The culinary team at Jade Mountain prepares fresh and thoughtfully curated snack boxes daily for all guests. In your bento box you will find an assortment of freshly cut fruit, a main course such as ceviche or mahi skewers and a delicious dessert from the in-house pastry chef and chocolatiers.
DINE AT THE EXCLUSIVE JADE MOUNTAIN CLUB
Dinner is always special at Jade Mountain—whether you opt to dine in, privately on your candlelit terrace or at the exclusive Jade Mountain Club. The Jade Club restaurant is located at the very top of the resort and boasts panoramic views of the Pitons as well as a menu that changes daily.
The Jade Mountain Club caters exclusively to resident guests and is open for breakfast, lunch and dinner. We enjoyed live entertainment almost every evening, ranging from one of the island's foremost jazz musicians to a classical acoustic guitarist. The Jade Club menus reflect seasonal changes of flavor with influences throughout the Caribbean. Drenched in exotic beauty and erupting with flavor, the "Jade Cuisine" created by Chef Allen Susser, is a brave new world of tropical flavors.
The refined service is unparalleled, with a staff who works with you on choosing the perfect pairing for every course. Among our favorite dishes were the crispy prawn with pineapple salsa and charred octopus as well as the local spiny lobster tasting menu. With a full selection of handcrafted cocktails, wine and cigars, you're set to enjoy the finest cuisine and service the island has to offer.
DISCOVER & CREATE JADE MOUNTAIN CHOCOLATE
In addition to plenty of relaxation in our sanctuary and at the Jade Mountain Club, we opted to experience several excursions on the island—many of which are included with your stay.
We started off with the Discover Chocolate Workshop, an interactive experience included in Jade's weekly Culinary Events. At the in-house chocolate lab, we learned about their "tree to bar" organic process that starts with the cocoa beans grown and produced at the Emerald Estate in St. Lucia. From there, we joined their team of chocolate alchemists in a hands-on experience to create our very own chocolate bar. Then came our favorite part, tasting the chocolate. It was also a real treat getting to take home our freshly made truffles and bars to enjoy throughout our stay and back at home.
SNORKEL & DIVE BENEATH THE PITONS
Next, we headed down to the SCUBA center at Anse Chastanet beach and hopped a short ten minute boat ride to snorkel beneath the spectacular Petit Piton Mountain. Their PADI Five Star Dive Resort is outfitted with all the latest snorkel and dive gear as well as certified instructors. The center offers many courses and group activities ranging from beginner discover dives, advanced courses, wreck dives as well as romantic below + beyond for couples sharing their first dive.
We snorkeled the "Superman's Flight" drift dive site, named after a scene in Superman II that was filmed here and also to describe how you fly along like Superman with the current. We saw extensive coral reefs and encountered a plethora of marine life including an octopus and a wide variety of tropical fish. The consistent currents at this site make for excellent visibility along the steep and beautiful mountain slope.
MOUNTAIN BIKE THROUGH 18TH CENTURY RUINS
Another exciting activity for the active couple begins at Bike St. Lucia. The jungle biking excursion is located in the heart of the Anse Mamin Plantation, a 600 acre estate, with 8 miles of trails carefully woven through 18th century ruins and tropical vegetation. We began our experience getting outfitted with Cannondale bikes from our experienced guide and learning the ins and outs of riding through the various trails.
We took in the plantation's natural beauty, historic sights, and tasted the lush fruits growing throughout the plantation, including soursop which was our favorite. For the experienced couple looking for a more challenging ride, there are intermediate and advanced single track trails that will certainly fill any adrenaline rush.
TOUR THE VOLCANO &
 BOTANICAL GARDENS
A trip to St. Lucia would not be complete without visiting the Volcano, Diamond Falls and the Botanical Gardens. We began our three leg journey with a little R&R in the Volcanic Mud Baths. Though the sulphur scent is strong, the exfoliating mud bath flowing from the active caldera will leave your skin smooth and refreshed. The active caldera still bubbles with liquid hot formations that tourists can view from inside the park.
Next, we ventured into St. Lucia's Botanical Gardens located on the grounds of the Soufriere Estate. In this relaxing tour, we left the outside world and entered a vibrant, lush wonderland of St. Lucia's vast flora and fauna. On the trail you will find plants, such as bamboo thickets brought by trade from Asia, medicinal herbs and flowers teaming with sweet perfumes.
One token we enjoyed learning about was the amount of plants brought by trade from various countries throughout history. Dispersed between the lush nature are the ruins of King Louis XVI's baths and reservoir structures used by French explorers in the 18th century. The St. Lucian guides preserve the natural beauty and cultural heritage of the park through sustainability efforts such as composting items like leaves and coconut shells as well as their mantra that "nothing is ever wasted".
Diamond Falls is a hidden oasis within the Botanical Gardens. Amongst the dense beauty of the colorful plantlife lies a vibrant waterfall and relaxing mineral baths. Due to the combination of the sulphur springs and rainwater, the rock face of the falls changes colors from the mineral content in the water. It's an incredibly beautiful sight not to be missed.
JADE MOUNTAIN ST. LUCIA AWAITS
Whether you're a honeymooning couple or seeking the perfect romantic getaway, Jade Mountain in St. Lucia is truly a one-of-a-kind experience. Their sanctuary rooms immerse you in the perfect blend of luxury and nature, their service is unparalleled and the food is a delight on your senses. With several months of cold weather ahead, there is no better time to book a life changing experience at Jade Mountain. There are a number of promotional packages available with everything from free nights for 'Early Bird' lovers to 30% off their Sky Suites. No matter what you're looking for, Jade Mountain has something for everyone.