Shintaro Okamoto is the innovative, artistic force behind Okamoto Studio in New York City. A second generation ice sculptor, Okamoto has worked with a diverse array of top quality brands, such as fashion icon Zac Posen and Food Network's Iron Chef America. Despite his massive success and expertise within the ice sculpting community, Okamoto maintains a humble approach to his craft by allowing "the here and now" to carry him through every installation or performance and gratitude within every educational opportunity he can relay to others.
CC: Tell me about yourself and how you began ice sculpting.
SO: I was born in Japan, and then my family immigrated to Anchorage, Alaska when I was nine. I grew up loving the wild life, and nature inspired my fine art background. My father was a master ice sculptor, and I worked with him. Not all Alaskans play with ice, but I did!
My father was always a very creative person, but he shelved that aspect of himself when we first immigrated to get our family stabilized in business. He came across ice carving when he was training as a sushi chef — ice carving has a very long culinary connection to its craft.
I remember one boring, cold winter, he took my brother and I to a frozen lake. He took out his chainsaw, cut a block of ice out, and created a sculpture. He gave it to a friend at a party, and then more friends wanted it. It sort of began as a side business for him.
This was a time when the ice sculpting community was beginning to explode. There was a lot of innovation [like] transitioning from hand tools to power tools. My father played a very important role in pioneering new techniques and elevating the craftsmanship of ice carving. He connected with really amazing artists and loved the community at large.
There was the first international ice carving competition in Anchorage, and I was his partner. I initially hated it! My job was to clean up the scrap ice and hold two pieces together while he fused them together with cold, dripping water in negative 20 degrees. But, there was something about the beauty of the finished piece, that polarity of this brute process of power tools and carving with a very delicate feminine finish that was attractive, seductive — it really stayed with me.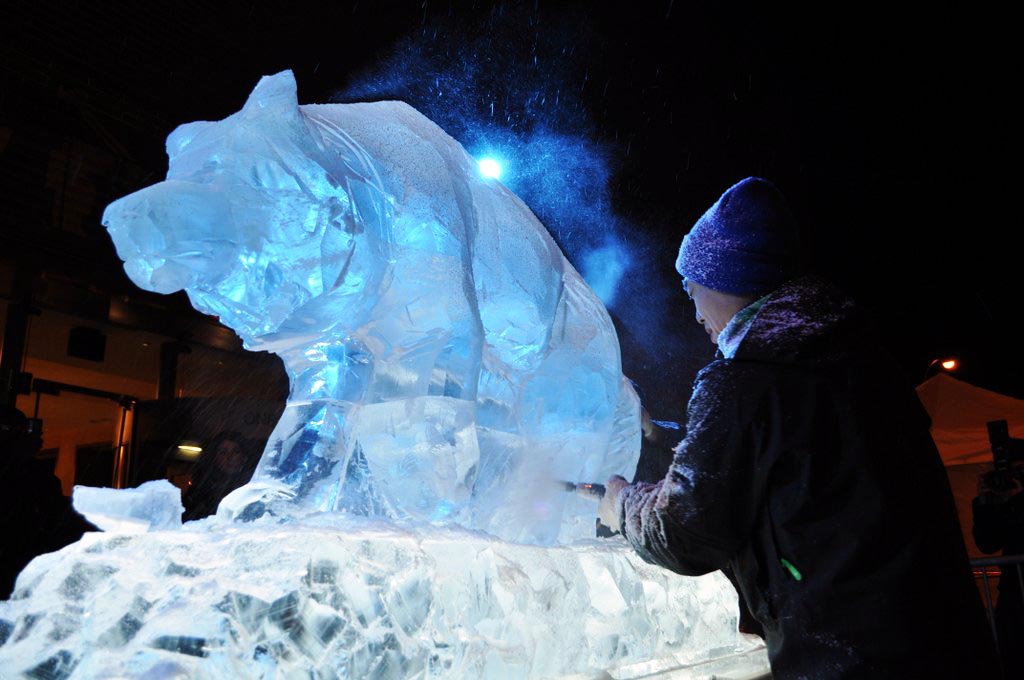 CC: What it was like growing up in Alaska? How did it influence your art, and how does it influence you to this day?
SO: It's truly the last frontier — there's no place like it. You're taking care of nature, and nature is taking care of you. It's one of those places where a grizzly bear can just walk downtown, and you remember you are in his territory. I've had friends who have died because of mishaps with nature — it's an incredible power, but you're always reminded to remain humble.
In terms of my art, I was at the right place at the right time. The education system was very well funded. Even my first year [in Alaska], when I barely spoke English, I won an art contest that took me to a governor's house. In fifth grade, I was paired with a professional wildlife artist. Once a week, I was pulled out of class to learn how to draw a squirrel's eye or how to draw a bull's tail. I wasn't treated as a child, but as a fellow artist. I had to step up, and I loved it.
When I was thirteen, I was invited to take night classes at a local community college, and I did an externship with a plastic surgeon during my last two years of high school. I ended up shadowing a general surgeon and exchanged medical illustrations for observation. It was a great bridge between art and medicine. I then chose to go to Brown University for undergrad because I could have the best of two worlds — pre-med and art. I ended up choosing the path of art at the very end.
CC: How was it in the beginning when you and your father first founded Okamoto Studio?
SO: I was always designing and drawing for my father during my college years. As I was making art, showing at galleries and finishing graduate school, I was thinking, "what is life after [college]?" So we thought maybe we can create an ice carving studio in New York. Since I know the city inside out and my father had his experience and skill, we knew we could create something beautiful.
It was very hard for my father and I to start out because we had very little network. We had to just believe in our product, give everything we could possibly give, and work as if nothing else like it exists. We were very, very fortunate to be embraced by very influential clients in a wide range of fields. Our first year and a half was just hoping we can pay our rent and survive!
CC: I would love to talk more about the process for freezing the ice, especially for cocktail ice and sculpture. How do you get it to its perfect form?
SO: Everything starts with a crystal clear block of ice. There are two important components, one is the direction of freezing. Ice freezes bottom-up — if you put a bucket of water in an open freezer, it freezes all around. It is the middle of the bucket that freezes last. By freezing one direction, you're always escaping the energy upwards, so you're eliminating the air bubbles.
The second is moving water. Agitating the water releases any impurities and air bubbles. We're freezing moving water, which slows the process down. It takes about four to five days to make a full block of ice. Each block is about four feet by two feet by one foot. It's about 275 pounds and about 37 gallons a block. No matter what we do — how big, how small we need, we always work with those dimensions. And then we use power tools to make however giant the sculpture or however small a single piece of cocktail ice.
CC: What would you say is your proudest creation so far? What is your favorite aspect of ice sculpting?
SO: I think one of our proudest projects was a collaboration we did with Barney's New York, where we converted one of their display windows with a fully functioning freezer room. We had one of our artists for about two months of the holiday season sculpting various pieces while the store was open. We had hundreds of people on Madison Park every day. It was a really cool, super New York experience. I was really proud to be a part of it and to work with such a great brand run by a very smart, creative team. It's always rewarding to have a client push the envelope for us and take us to a new level. Only New York, you know.
My favorite is always the public installations. I love sharing the process with an audience because that's all we have. The process. Ice physicalizes time — it's a performance piece. It has more of an affinity to the performing arts than any other.
CC: Speaking of time, I would love to delve into your philosophy about "the here and now" and how that's embodied into your work.
SO: It amazes me how our audiences are first stunned by their familiarity with ice, and yet unfamiliar of the scale and amount of detail we put into it. When they see the art melt away right before their eyes, it gives them a feeling a graciousness to be a part of it. That's the here and now.
CC: Are there currently any partnerships or collaborations you're doing with any other artists nonprofits, or any that you're passionate about?
SO: For the past year, we've launched a new line of ice luges called Fun Luge. It's an interactive piece people really love to enjoy — it reminds them of the college years. We really make them elevated, elegant, fun and artful. We've built our reputation as higher end, artistic sculptors, but I really wanted to extend that to a more accessible, wider audience. I wanted to offer a more streamlined, affordable line of sculptures. Fun Luge is all on funluge.com where we have over 50 lines, priced $220 and up. We also have a partnership with Charity:Water and donate a percentage of our proceeds to them. We work with ice, so we want to give back to water needs on a global level.
CC: What were some valuable lessons that you learned along the way of becoming an entrepreneur?
SO: Entrepreneurship is incredibly creative, artistic, and challenging. It's equal to every art form out there. It's a mindset, a framework, but it's very easy to be taken advantage of when you start a creative business. Especially since society initially sees creativity and art as charity.
The most important thing is to really understand your value. Know that when you give something for free, make sure you get something in return. When you give your art for free, people value you less. It's free, you know? Often times, I would negotiate back. Like, 'I'll give you free labor, but I need money for my delivery crew.' It actually earned respect from future clients.
CC: What would be your best piece of advice to creative entrepreneurs just starting out who want to have a positive impact on the world but also want to be successful in doing what they love? What is that one element that has helped you persevere and receive the level of success you've received?
SO: Stay humble. I have a great poster in my office that just reads "work hard and be nice to people." My father passed away in 2012, and I feel like that was always the motto that he lived by, that reflected off of him. As an immigrant, it resonates with me more than ever on a daily basis.
Ice is a very tricky material. It's wet, it's heavy, it's slippery, it's dangerous. You've got to stay humble. You've got to work hard. You've got to be nice to people. And for other creatives out there — just know your worth and value. Once you make yourself a full charity, how are you going to pay your rent? You've got to think five steps ahead and take care of yourself.